The first of three
Blackest Night
miniseries tie-ins reaches its conclusion, and while there's still a long road to traverse with the main story for the next few months, one can only wonder how the heroes will triumph when everything is said and done. Given that most of the books I picked up last week were
Batman
related, I can't help but feel that this book weighs in more over the others, especially since I wanted to see how the new Dark Knight and his posse escape the wrath of the undead lanterns unscathed. Well, the final curtain call has settled in and we've been given an ending, but is it the kind that will leave fans with a sweet after taste or a bitter one once they finish reading? Read on and find out after the summary jump.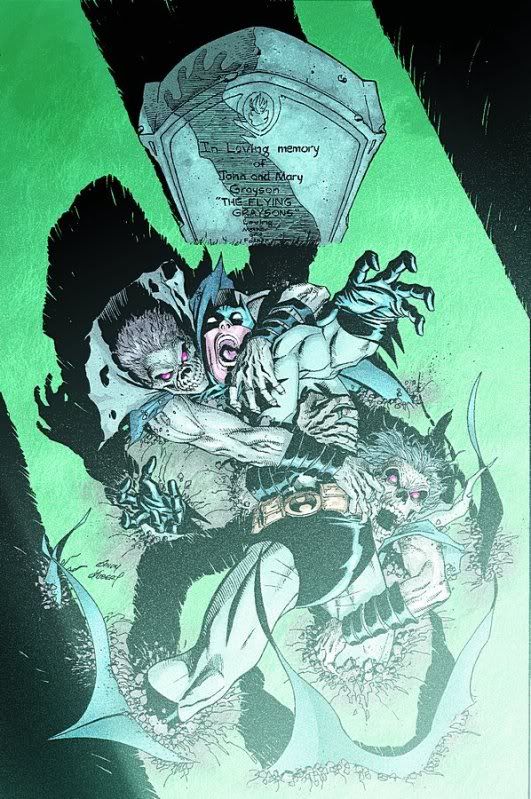 Blackest Night: Batman #3
Written By: Peter J. Tomasi
Illustrated By: Ardian Syaf
After crashing the Batplane into a nearby cemetery, the new Batman and Red Robin find themselves confronting their long deceased parents, newly resurrected and among the ranks of the growing Black Lantern Corps. Using their powers, the undead lanterns begin to torture the young crimefighters, echoing familiar moments and scenarios from their past. Dick Grayson knows its a trap, but Tim Drake wants to believe differently, seeing this as a second chance to save their parents. Both are soon sucked into the emotion-filled void by Black Lanterns craving for their hearts, and if Deadman doesn't make it back in time with "additional help", the new Dark Knight and other Robin may become the latest victims in the chaos that is the Blackest Night.
Once again, Andy Kubert graces us with another horrific, yet amazing cover (and just in time for Halloween too!). It's another work that shouldn't be taken for face value, but it gets the message across that Dick Grayson/ Batman is in for a world of hurt... by the undead constructs that were once his beloved parents.
Wrapping up his 3 issue
Blackest Night: Batman
stint, Peter J. Tomasi's credibility with the new Dark Knight is sound. He knows how to write a mean Dick Grayson, and is careful to point out in clear detail that he's no Bruce Wayne, but just a worthy heir who's doing his damned best to live up to his mentor's reputation. That determination, however, is clearly being tested to its limits, as Dick comes to face to face with his Black Lantern mommy and daddy - the two people he'd never thought he'd be forced to face. Writing has been pretty consistent and fair in DC Comics as of late, and I'm pleased Tomasi is up to speed with the developments happening in
Batman: Reborn
and beyond, even going as far as to research and incorporate elements from classic DC Stories. All this is flawlessly implemented into the narrative, and Pete even does a bang up job of presenting brilliant internal conflicts within the Bat-Family. For instance, "New Bats" tries to be the voice of reason to a one track minded Red Robin, who's more eager to see this as an opportunity for a "family reunion" rather than a fatal threat, citing his crusade/ obsession to find Bruce Wayne as an example that he believes in the impossible being possible. Real excellent writing I say, with the right balance of action and story involved.
While this issue is mostly about the Graysons and the Drakes, let's not forget the supporting cast involved. Damian Wayne has less screen time here as the new Boy Wonder, but his absence from the real fight is justified when he's tasked to bring the Gordons to safety in the Bat Bunker. Oracle and Jim Gordon don't do or say much either, but Deadman's on the case to save his living and breathing allies. To this end, he "persuades" a magical ally of the Bat-Family, namely the demon Etrigan, to save their asses, especially when the fuel tanks of the Batboys run out. Nothing much can be said for the Black Lanterns, but they're still the wise-cracking flying zombies who'd love nothing more than to eat your hearts out, literally. By the issue's end, a new way to counter their attack is presented, but how that's going to work for the rest of the universe is another story that will have to be told another time, as Blackest Night still continues and develops on into a mega classic event.
I praised Ardian Syaf's art in the past two issues, and he's still living it up and showing his guns for the world to be see and be amazed at. I'd really like this artist to take on the Bat in the main series someday, and even DC has pointer out to the readership that we should watch out for this guy. He's an up and coming pencil sensation, and for me at least, drawing a convincing and mean Batman already earns my vote. His final sketches here are already starting to look routine, but at least that's a good thing. Can't wait to see future projects from this guy, if and when DC manages to cook up something that suits his style.
So, with Blackest Night: Batman in the bag, what's going to happen to Dick and the gang? The conclusion of this arc was not too disappointing, but it was lacking considerably. It just goes to show that tie-ins are tie-ins, and we can expect the bigger things to happen in the main Blackest Night book. While I'd like to see more Batman in action, he'll no doubt appear in the main book, and as for the skull of Bruce Wayne, I haven't seen it since BN #1, and I was hoping that would be tackled in this miniseries, but to no avail. Let's hope that shows up in the main, as well as Dick, the Bat-Family, and the heroes rallying up and coming up with a plan to fight the Black Lantern threat back soon. So far, weaknesses have been discovered and exploited. It's all a matter of timing and execution now. Bottomline? Anyone who hasn't picked Blackest Night, I highly recommend doing so if you're a DC fan. Blackest Night: Batman? A good tie-in, but only grab it if you enjoy supplements... and the Dark Knight himself, of course.
Score
-
8/10