2009 had its up and downs, but we couldn't end the year right without some joy and excitement to welcome the coming new year, right? Just in time for the new year, I deliver my last Comic Review for 2009, and I call it the big send-off title to usher in the new year - Blackest Night #6! Prepare for thrills! Prepare for spills! And get ready as 2010 is here!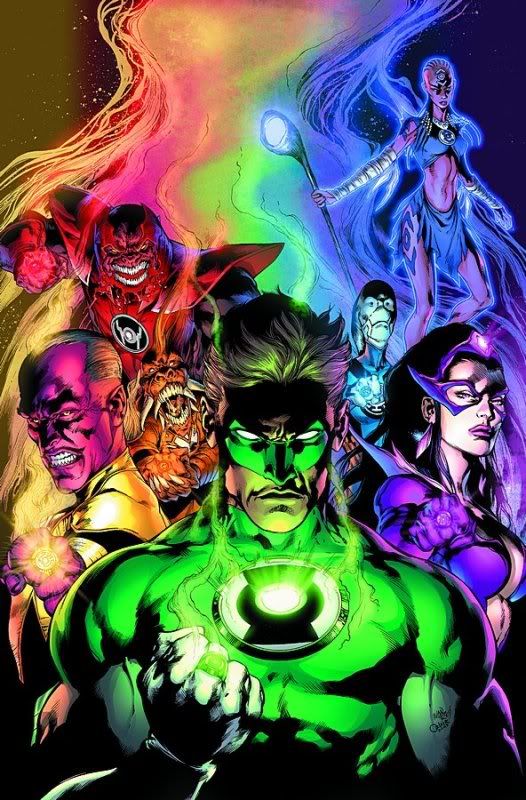 Blackest Night #5
Written By: Geoff Johns
Illustrated By: Ivan Reis
As the Blackest Night manifests itself on the planet Earth, the undead lord Nekron unleashes his ultimate trump card by turning the resurrected heroes into Black Lanterns of his own. The only two to escape this dark fate are Hal Jordan and Barry Allen, and even as they rally their remaining troops to combat the Black Lantern onslaught, the situation grows bleak for Green Lantern, Flash, and friends. Hope, however, has a funny way of showing itself when its needed the most, and even as the battle looks all but lost, the exiled Guardian known as Ganthet reveals a secret that tips the scales in the heroes' favor, and makes the outcome of the war of light as mysterious as ever.
Since the series began in the middle of this year, Blackest Night has proven to be a constant hit with each issue's release, and the hype and suspense built up couldn't be more ingenious than with a specific plot twist that keeps the reader's blood flowing and begging DC for more interstellar undead lantern zombie fun. As a result of its brilliant pacing, I'd like to call issue numbers 5 and 6 as "The Twin Towers" of the entire BN saga, and if you're asking yourself why is that so, then you have got to pick up this monumental miniseries and find out for yourselves. Writer Geoff Johns has produced the ultimate Green Lantern DC tale that will be remembered for generations, and he utilizes all the key players in this storyline so well that I am looking forward to their futures to come after all the zombie hunting is said and done. In particular, Johns has crafted new and impressive reputations for Green Lantern and Flash, and as mush as Hal shines brightly in this story, Barry shares the spotlight as well, and his role has been refined with the events that have transpired in this latest issue. Anyone who questioned the logic or the reasoning behind comic book character death in the DC Universe is being addressed with care in Blackest Night, and as we countdown to the concluding arcs of this epic tale, let's not forget the other warriors of light who play their efforts well and have branched out a new legacy for the Green Lantern mythos. Right now, the heroes may be on the losing front, but if there's anything about epic crossovers, expect the big bad twist and punch to come on the final two issues. Johns is a notorious and magnificent writer, and he will hit us when we least expect it.
The art has been handled so well by Ivan Reis that I've already become a fan of his work. SInce the Sinestro Corps War and the beginnings of BN, I've already grown accustomed to his proficiency and style in drawing the light colored warriors and other DC universe residents. The miniseries alone has propelled the artist's reputation to new heights, and I hope there'll be plenty more opportunities for this superstar artist in the future. The covers alone are absolutely flawless, and besides his work on issue #2, #6 is absolutely epic as epic can be. Can't wait
Since the main series is going on hiatus next month, this will be the final issue of Blackest Night to keep us on our toes until the series resumes on February next year. In the meantime, DC has "resurrected" a few titles to keep the needy preoccupied with some important side tales, so anyone looking for more action will be mesmerized for a while. As for this issue, it's absolutely amazing, and although I have my reservations of the new key players and elements showing themselves here, I'm still looking forward to some super awesome fun in the next year. Blackest Night was awesome when it began in 2009... and I hope it will end in awesome fashion in 2010! Happy New Year folks!
Score
-
10/10