I finally have it... and not all is what it seems.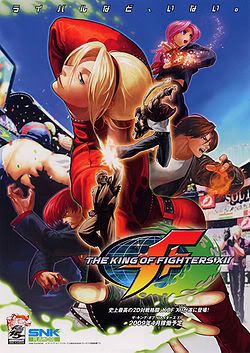 The King Of Fighters XII
Publisher: SNK Playmore, Ignition Entertainment
Developer: SNK Playmore
Released: July 28, 2009

The King Of Fighters XII is what it is - a pretty looking fighting game. After trekking through the series' long and fruitful history, I finally have the next entry in SNK Playmore's epic brawling franchise... and so much has changed here. It is the culmination of almost four years hard work by the folks of Ignition and SNK Playmore, and the final product is what many consider to be the "Rebirth" of the legendary fighting game series, which celebrates it's 15th anniversary this year. However, that being said, is the re-imagination of this brawler absolutely worth your time and pennies? Read on and find out.
In terms of appearance, KOF XII doesn't disappoint when it comes to looks alone. The graphics have gotten a major overhaul, and it has, through leaps and bounds, exceeded my expectations of a much needed makeover for the series. Every character has been careful hand drawn and reanimated for this game, so mainstays like Terry Bogard (back in his original Fatal Fury outfit) and Ryo Sakazaki look fresh and pleasing to the eye. All of this was done because of the advent of High Definition technology, so if any of you poozers have an HDTV at home, you'll be loving all the visual eyecandy this game offers. Don't get me wrong, I love the classic 2D sprites that SNK has used for the past 15 years prior to this game, but it's a refreshing change to have new graphics, and seeing the animation alone is worth time invested on this game.
How does KOF XII play? It's back to old school basics and team rules once again. Players select three fighters from the roster to make up a three man team and brawl it out in a series of 5 rounds. There is also the option of playing the game in a standard one-on-one match, but where's the fun in that if you can't have diversity? It's all about the fight on this one, and you have 22 characters to choose from, and that already includes the console exclusive additions - Mature and Elizabeth. After selecting three guys, you can choose between five stages, and then comes the order of your team. Afterwards, the match begins, and all that's left for guys to do is beat the living crap out of each other.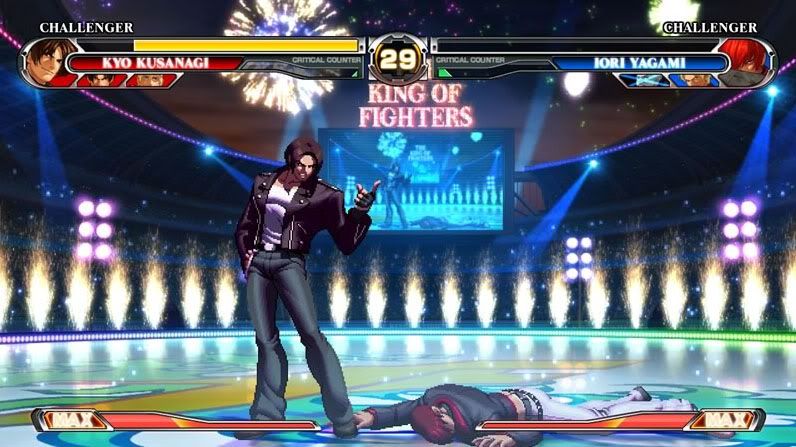 Players, of course, win matches by eliminating all members of the opposing team, so overcome the odds and put your skills to the test! Every character has different moves and skill sets to master, so it's up to the player's abilities to adjust and master a particular fighter and get acquainted with how they perform in the ring. Also, a couple of neat features have been introduced to the playing field that can change the tide of battle. Guard attacks return and can counterattack opponents, while Deadlocks cancel out two fighters moves of equal strength and doesn't produce any damage. However, the most impressive addition to KOF XII is the Critical Counter System, which is truly as damaging as it sounds. Just below the health bar is the Critical Counter gauge, which fills up as you inflict and take damage. When that's full, time your hard punch when an opponent strikes to counter it, and from there you're free to dash in and execute a string of painful combos! This lasts for as long the meter is still charged, so time your attacks wisely and end it with a super finish!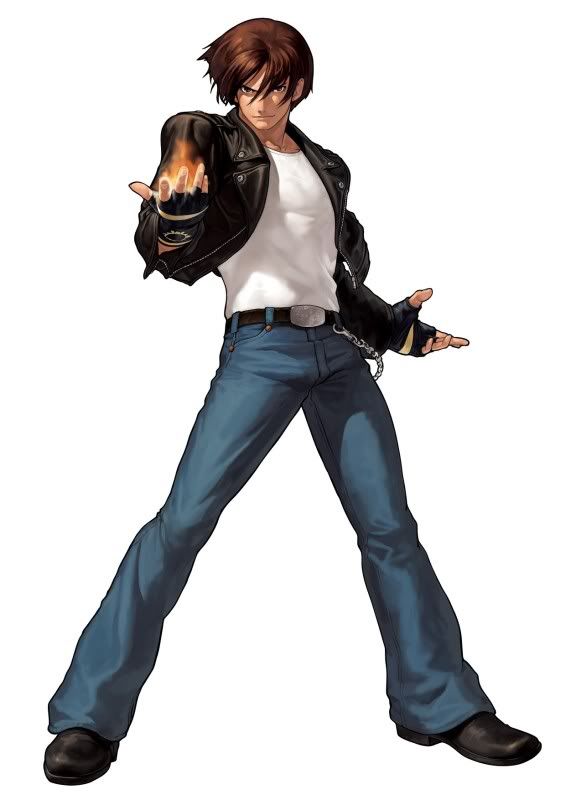 Because it was released in next-gen systems, the game boasts online features, and that's where the meat of the action lies. You can contend against any opponent around the world and fight for fun, sport, or to increase your rank. To do this, someone has to create a fighting room, where up to eight players can join in. While two guys fight against one another, the others can choose to view the match and become spectators. This of course relies on your internet settings, so if you have a slow connection, it's going to be a headache contending with lags (more on that later). On a last note, Players can also make up "clans" of their own (for the PS3 version only), and fight alongside two other guys, competing against other teams to make their name in the online fighting world.
Now for the downside: the game has absolutely no storyline and no boss for players to finish. There are only "5 time-trial" stages in Arcade Mode, so those looking for a continuation of the "Ash Crimson" saga will have to wait until the next game arrives. It seems the guys at SNK prioritized the makeover rather than the story, so it's pretty much like '98 and 2002 where the game serves as a filler that people can compete and test their skills on. Unfortunately, you get a limited roster, and some fan favorites like Mai and K' didn't make the cut. Don't get me wrong, I understand that all the characters were hand drawn and all the sprite actions had to be reanimated, but would it have killed SNK just to add more moves for some of my favorites? Kyo, for example, has reverted back to his '95 move list, and no longer has the fiery punches that made great combo starters in the past entries. His rival, Iori, lost his powers in XI and now sports new moves and a new costume in this game. However, it's sorely lacking and people will have to rely on the same patterns over and over again. How I wished that SNK had more time to give this game depth, but I guess almost four years of work really took its toll on the guys, and the results alone prove that the game was no easy feat to program.
Another downer is the fact that most, if not all characters, remain unbalanced. Some of the guys, like Leona, Benimaru, and Ash, have more moves and supers to dish out than other regulars like Iori, Clark, and Mature. It's moments like these where you feel the game kinda feels rushed and uncompensated by the fact it has "pretty slick graphics" alone. When I started playing KOF years ago, what I loved about it was the depth and massive character roster it gave to fans as compared to the popular worldwide brawler that was Street Fighter. It was 2D, yes, but it pushed boundaries... so much so that I feel it later inspired elements seen in Capcom's VS games and the Guilty Gear series. This KOF, however, falls short in the fighting and single player category. It only works well if you're playing with friends or when you're online... and the latter part alone can be an intoxicating experience. Unlike Street Fighter IV, the lag issues in KOF XII are intolerable, and causes unbridled frustration for gamers unlucky enough to come across the problem. I tested this myself, and the slowdown in SFIV is a cakewalk compared to this. At least the game automatically disconnects if there's a lag problem... THIS one hardly does. It's problems like these that make the game all the more disappointing for me. So much potential, yet lots of setbacks to face after its release.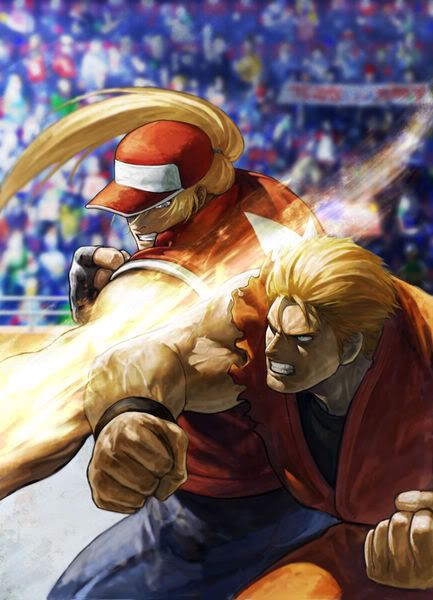 So is KOF XII worth the purchase? Only if you're a fan like myself and have a craving for fighting game goodness. I gave this game a chance, and despite no available storyline and constant online issues, I find SNK Playmore's effort to be worthwhile. While I am still disappointed by the exclusion of a true single player experience, I find it hard to disregard the graphics... it looks pretty awesome no matter what people say, especially on HD. Online gives me a headache now and then, but I am still hopeful for a chance to experience it lag free sometime, otherwise I can always play it with friends. Overall, I can only recommend this to fans and fighting game affectionados with nothing better to play. It's KOF, but it has to grow up all over again.
Score
-
5/10


*additional score references


Graphics - 9/10
Sound - 7/10
Gameplay - 6/10
Replay Value - 3/10