A few years ago, I was among those toy enthusiasts who collected what is already considered the toyline of the past decade - "Marvel Legends". Initially produced by Marvel toy division and subsidiary Toybiz, it was not only a phenomenal series of action figures, but it was also a superb collectible that provided fans with something that was not perfected til the line came to be - crafty detailing and superb points of articulation on each figure. Initially starting off in 2002 as a spinoff of the "Spider-Man Classics" line, ML was conceptualized to include other famous heroes and villains in the Marvel Universe, standing at 6 inches to scale and usually packaged with a complimentary comic book that features the character's origin or one of their best adventures. As the years went on, the line expanded to include "chase" figures (otherwise known as the rare ones) and build-a-figure gimmicks, giving more reason and demand for the fanbase to collect every single figure they could find. However, something unexpected occurred in 2007, when popular toymaking company Hasbro gained the reigns to the Marvel license and literally took over the ML brand, forcing Toybiz to cease production of the series after 15 waves of marvel character goodness. As a result, my days with the ML line were practically over, and I settled into semi-retirement with action figure collecting... or so I thought.
I never dipped my hand into Toybiz's Marvel Select line before. Known as the "sister" product of Marvel Legends, it prioritizes sculpting and bases more than dynamic posing and articulation. While I happen to have a couple of figures from the line that were given to me as gifts, I only started paying attention to the line when I picked up the Bucky version of Captain America. It was true to form and the first figure to feature the new Cap in action figure posterity, so didn't hesitate to grab one right away. As a result, I have been pretty open to the Select line as of late, and last week, I added another classic hero to my growing line-up of figures - the modernized and new version of Marvel's resident God Of Thunder, The Mighty Thor!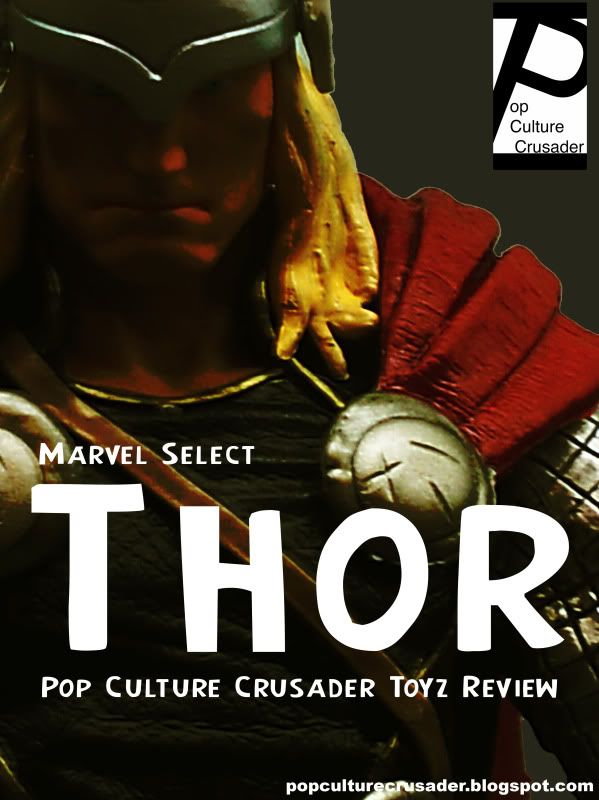 Marvel Select Thor
Released In: 20
08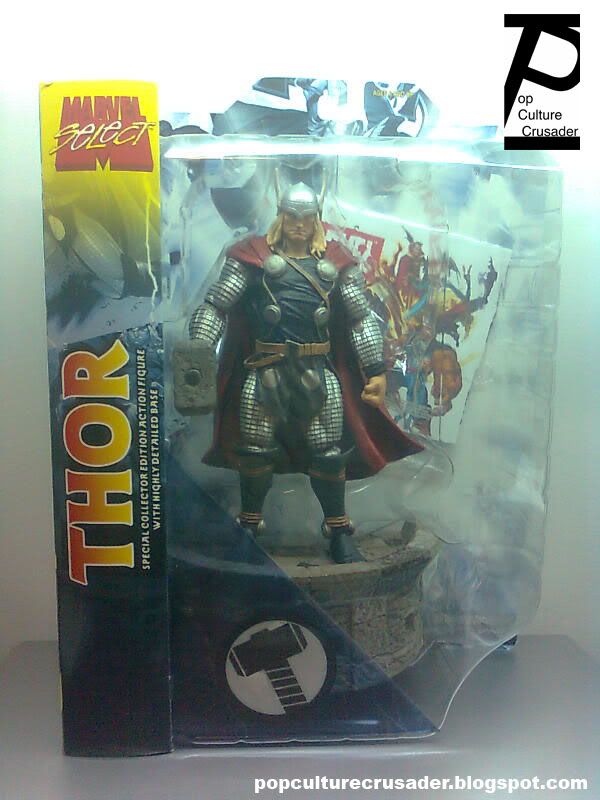 Originally released in 2008 and standing at 7 inches tall, The MS version of Thor is a perfect figure that demands praise from fans and collectors alike. Garbed in his new chain mail armor type costume and armed with his mighty hammer Mjolnir, the son of Odin is a recognizable face among Earth's Mightiest Heroes, and those looking to add him to their collection will be wise to pay attention to the tall and powerful figure. As far as detail goes, everything looks perfect with Thor, and this sculpt of Goldilocks' new look based from art by Olivier Coipel, who's been drawing great Thor tales and is the mastermind artist behind the big Marvel event, Siege.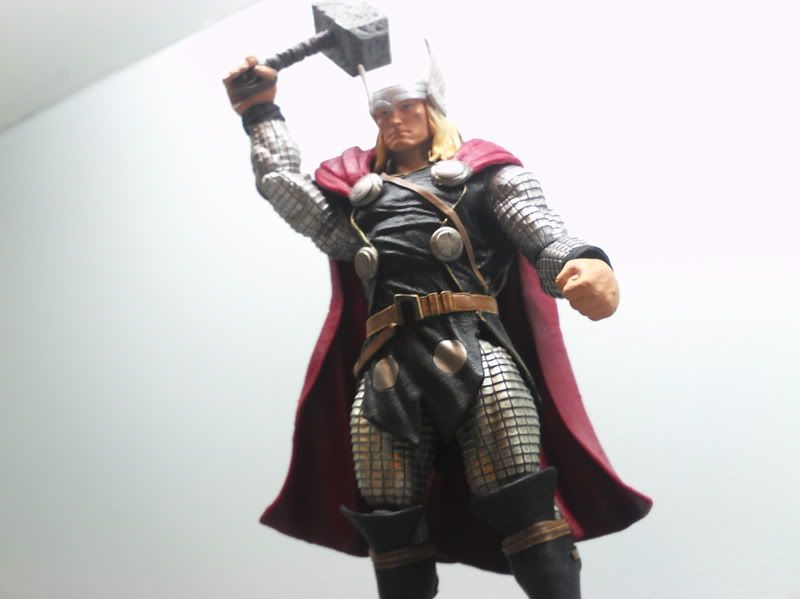 The MS Thor a great rendition of Asgard's favorite son, and one that doesn't have any deficiencies to point out, save for minor bloches and paint smears the average collector would notice from mass produced toys of this nature. On the subject of articulation, Thor has a number of ball joints, pegs, and swivels to turn different parts of his body around to the satisfaction of the owner, but bare in mind, this is not a Marvel Legends figure, so everything is limited at best. Accompanied with a painted base that represents one of Asgard's brick watchtowers, Thor is intended to pose and stand there with limited variation involved, so if anyone is looking for dynamic action poses, you can put your dreams aside with this one.
Be cautious when placing him in the peg of the base though, as the figure doesn't stay put and has a habit of falling off easily when moved around. Another gripe people may have is the neck joint, which refuses to turn sideways. I myself have encountered this problem, and I hesitate to force the issue lest I come up with a headless God Of Thunder to display. Also, you can only equip Mjolnir on his right hand, so no swapping the hammer on the other hand.
By all counts, if you like Thor and all things Marvel, I'd highly recommend the Marvel Select Thor. Comparing it to the old ML Thor and the upcoming Marvel Universe modern Thor, this one stands out as the best among the lot, and frankly, it's built like a brick wall that will last for ages to come. The figure is still widely available in retail shops and stores everywhere, but be warned, there are a couple of stocks out there that may have some factory defects, so be sure to pick and choose your copy wisely. All things considered and despite some minor setbacks, it's an impressive figure to mount and display on one corner of your room, and if you like some God Of Thunder awesomeness alongside your other collectibles, here's the product just for you.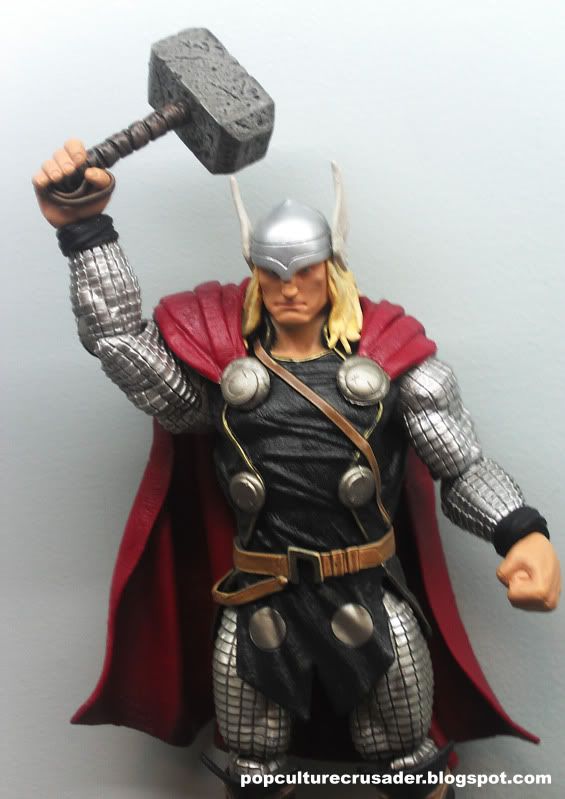 Rating
-
5/5