Kick-Ass: The Movie premieres today on cinemas everywhere. Most of you have probably seen the trailers already and gotten a gist of what it's all about... but did any of you read the comics on which the movie is based upon? If you haven't, you're missing out on what is probably one of the most awesome, gruesome, best written superhero stories ever written in the history of comics, and one that touches on life as we know it rather than the surreal adventures of an alien refugee from another planet or a boy endowed with radioactive spider powers! Warnings should be given of course, and this IS NOT FOR YOUNG KIDS, and STRICTLY FOR MATURE READERS ONLY. If you wanted to know what it meant to be a superhero in this day and age, look no further.
Kick-Ass
is here.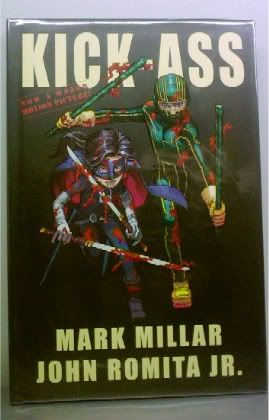 Written by Mark Millar and drawn by John Romita Jr., Kick-Ass tells the story of Dave Lizewski - your average high school teenager living with a single father and has a big love for comic books and porn. He's neither athletic nor the smartest boy in class, and everytime he makes a move on his crush, Katie Deauxma, he's rebuffed with insults that would make any man feel puny. Yep, life seems pretty dull for Dave... but all of that changes one day when he has an epiphany. "Why does everyone work to get a job they don't want and a future that isn't the least bit exciting"? "Why hasn't anyone tried to be a superhero"? With those thoughts feeding his energy and imagination, Dave sets out to carve a heroic legacy for himself by purchasing a spandex suit online and hitting the streets in search of trouble wherever it may be. After a few hits and big mistakes, Dave strikes gold when he manages to save a guy from a serious beat down from some goons, and with bystanders seeing and recording the whole thing, he soon becomes a You Tube sensation, and finds a moniker to call himself by - "Kick-Ass". Following the sudden surge of popularity, Kick-Ass' influence goes from media hype to trend setter, as other wackos start coming out of the woodwork and begin dressing up as superheroes, such as the crimson vigilante Red Mist and the mob killing duo of Big Daddy and Hit Girl. Yes, it does feel great to be a hero... but there are consequences that follow because of it. What Dave Lizewski doesn't realize is that his actions have triggered the ire of the mob, and they will see to it that Kick-Ass and his cohorts get a less heroic ending than they thought.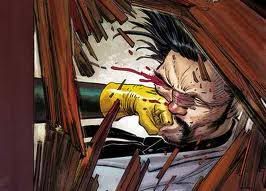 When it started out back in 2008, I didn't really know what to make of Kick-Ass. The idea seemed too crazy to imagine - a kid wanting to make a difference decides to become, of all things, a superhero. As an avid comic book reader, I could relate to the idea, but I don't know if I'd actually survive the world's scrutiny and abuse if I dared to step out in a pair of tights and fight crime.
That, my friends, is where the brilliance of Mark Millar and John Romita Jr. comes in.
If you ever longed to read a tale where a regular ol' joe like you and me wanted to become a superhero, this is the book for you. It comes along so natural and down to earth that you can relate to Dave's situation every step of the way. Every punch, kick, insult, injury, frustration, and emotion the kid takes is a hit to our character, and we feel the up and down moments as if we were actually experiencing them firsthand. Millar, the guy who delivered classic Marvel books like
The Ultimates
and
Civil War
, taps into life's daily going ons as inspiration to create a tale that doesn't have anything special... except people kicking ass as heroes and learning things the hard way. He's not one to censor things either, and being a book away from the norm means that the kid gloves are off and the shit is about to hit the fan. You will see about every curse word there is to know, and the most violent, gore-fested death scenes you can actually see in a comic, and all that artwork comes from the talented hand of John Romita Jr. It's not the artist's first team up with Millar either, as both worked on an epic Wolverine run with
Wolverine: Enemy Of The State
a few years back. To say that this is a dream team come true is an understatement.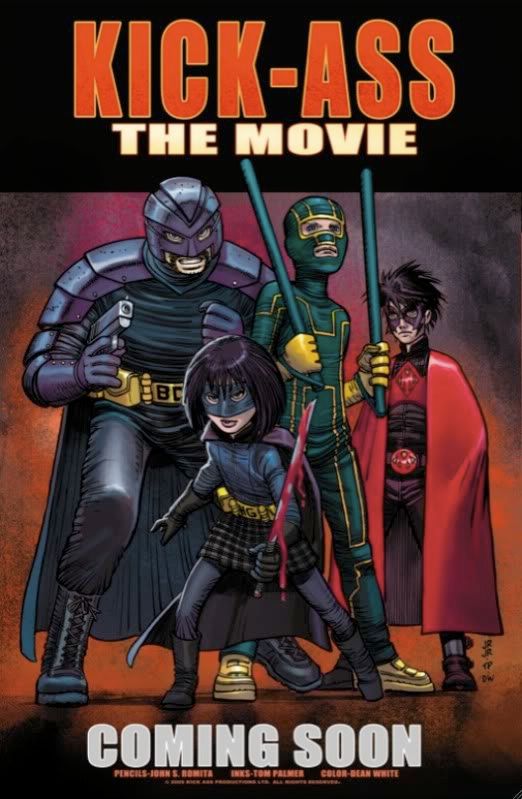 If you haven't read Kick-Ass, you're sorely missing out on a true classic. As an 8 issue miniseries that only concluded recently, the Hardcover is finally out and ripe for the picking at a bookstore near you. Of course, with the movie out in theaters now, it's going to be a little hard to come by, but when you actually see one, don't hesitate to grab a copy. Comic book stories do make for good movie material, but it's always a constant fact that not everything makes a complete or faithful translation to film. There are very noticeable differences between both mediums, but I would definitely recommend to check out both when you have the time. Rest assured, it will definitely Kick-Ass.XD
For kicks, here's the trailer for the movie one more time... in case you missed it.
Kick-Ass International Trailer