It's been a rough road for Tim Drake/ Tim Wayne, but his first steps as
Red Robin
have been pleasant reads so far. Now on its fourth issue, "The Grail" arc finally sees resolution, and a significant discovery made by the former Boy Wonder leaves him with renewed hope... but with more questions at the same time. If none of you can follow what's going on at the point, I suggest you go back and read up the first three issues, which I reviewed
here
and
here
. Otherwise, if you're looking forward to finding out how Tim's adventure is currently, stick around and find out.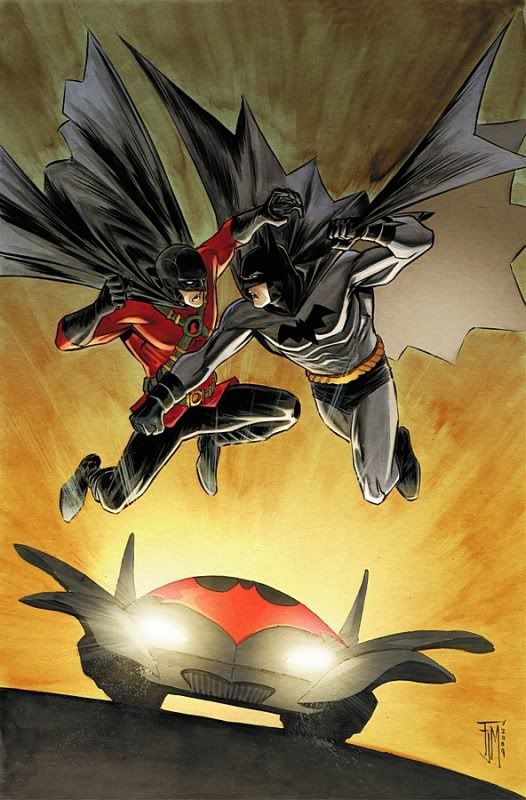 Red Robin #4
Written By: Chris Yost
Illustrated By: Ramon Bachs
After overcoming the odds and journeying to different parts of the world, Red Robin's search for evidence regarding Bruce Wayne's survival comes to a surprising conclusion. After successfully tracing the point of origin of an artifact he procured from a German Museum, he travels to the middle east to see things for himself, albeit with a few complications on the way. Fortunately, Ra's Al Ghul is also interested in learning about the fate of "the detective", so he instructs three of his assassins (the same ones who have been bothering Tim for weeks) as his "personal escorts". A disgruntled Tim begrudgingly accepts help from his mentor's nemesis to seek out the truth, but when he finally finds what he's looking for, will his journey bare success, or end in shameless disaster?
So arrives the end to the first arc of Red Robin. I'll admit, It wasn't the most exciting round up to things, but after seeing how things concluded in this issue, you can bet your bones that I'll still be sticking around "Tim Wayne's" corner for a little while longer to see where else his journey takes him. Still, what he was eventually going to find was already expected by most since the beginning. Using a plot device taken right out of Final Crisis and similar to a concept used in the "
Back To The Future
" film series, Tim finally finds the clue that proves Bruce is alive, confirming the lad's suspicions that his adopted father isn't dead. However, there was a little too much melodrama and angst he had to go through to justify his search for ol' Bats. Like I said in the reviews of the past issues, his new found attitude is a little out of character from the Tim Drake many knew back in the Robin series, but now that he's "Tim Wayne", he's on the path to become a dark and brooding figure... much like you know who. Christ Yost has turned Tim into an adult, and whether people accept it or not, that's going to be the status quo for a long time.
For the revelation in this issue, I wasn't expecting much of a pay off considering how soon it would be to bring Bruce back, but looking at how
Batman: Reborn
started, along with the promise of a new direction for Tim, everything turned out to pretty decent in the long run. It's established that the guy's got a new direction and a new foe to pursue, and along the way, a little quest to keep his hands full while Gotham City is taken cared of by the new Dynamic Duo. Speaking of which, the cover to this issue speaks volumes of a big fight between Dick Grayson and Tim Drake. I wouldn't really call it a fight, but it's a confrontation that was foreshadowed since the first issue and finally reaches a conclusion here. So, if anyone expected a smackdown between the new Batman and Red Robin, you'll be sorely disappointed. As for the villains, Ras Al Ghul still does his best to guide Tim on his journey, and I loved that quip he makes of the demon head being an evil version of "Alfred", heh. The League Of Assassins trio also return as escorts to Red Robin, with some of them getting more page time and fleshing out their characters more. Of course, that subplot where members of the League are slowly being killed off is finally brought out in the open at the conclusion of this issue, and it's where the series picks up its next major story arc. Just when Red Robin finds what he's looking for, he's thrown into another mess. How typical.
Once again, Ramon Bach's art still doesn't do much for me. Granted, it's bit more polished and cleaner now than the earlier issues, but it still feels off. The same can be said for coloring, which I really can't compliment on either. Now that the first arc has concluded, I do hope that things speed up, and probably it's about time we get a new art team on board for the next issue, just for a "change in scenery". It's about time for a change anyway, and judging from the previews of the coming Red Robin comics, things look to be in better hands.
Looking back, I compared the Red Robin series to "The Bourne Identity", and in many ways, that's exactly how it plays out. It has the action and dynamics from the film, only with a superhero theme etched to it. There's also a bit of an exploration that's akin to Indiana Jones for this particular story arc, especially since Tim's making trips around the world and discovering stuff people would normally give up searching for. Granted, he's determined to find Bruce, but along the way, he's facing lots of baddies that are out of his native Gotham, which can be a little out of character, again. Then again, he still retains the attitude and detective skills that make him a formidable hero and fighter in the first place, so it won't alienate too many fans. Overall, what I'm saying is this: you can give Red Robin a try if you're a fan of Tim Wayne and want to see how he's doing currently. Otherwise, if you're not used to the changes made by Batman: Reborn, drop the title and just remember the guy for who he was during his Robin days. This issue also ended with another cliffhanger, so things are just bound to get stranger and messier from this point forward.

Score
-
7/10