Last week's comic haul was one of awesome and it kept the reading pace up in a nice way. In fact, Siege #2 was part of the assortment, and it prompted a lot of people to head on out and see what the second chapter of Marvel's latest event could offer after last issue's short ending. After grabbing my copy and reading through it, all I can say is... BOY, DID IT DELIVER! By leaps and bounds, this book came, saw, and just landed the biggest excelsior and selling point that fans were feverishly expecting. The big pay-off that would solidify this as a must read for Marvel Comics fans is in this baby, and if you haven't hopped on board yet, now is the time to read on and find out why this will be the staging ground for the big changes the MU will experience in a few months time.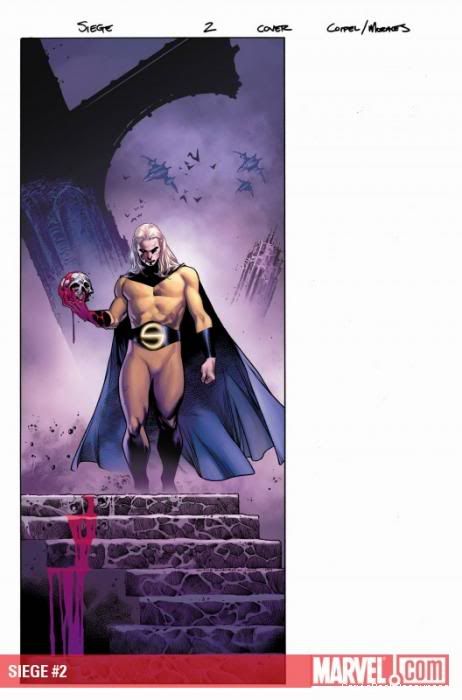 Siege #2
Written By: Brian Michael Bendis
Illustrated By: Olivier Coipel
Norman Osborn and his forces have launched a full scale assault on Asgard, home of the Norse Gods and of Odin's son, The Mighty Thor. Among those leading the charge against the Asgardians is Ares, who clashes headfirst with the city's new king, Balder The Brave. Their duel is cut short though, as an injured Heimdall reaches out to the God Of War, making him realize the folly of his judgement. Now knowing he has been used by Osborn, Ares plans to rip the megalomaniac to shreds. However, swift retribution may be harder to grasp, for standing in his way is the highly unstable yet powerful powerhouse of Osborn's Avengers, The Sentry. While all the chaos unfolds, the newly returned Steve Rogers assembles his team of heroes to confront Osborn and his cronies once and for all.
I'd be lying if I said I wasn't impressed with Brian Michael Bendis right now, and yeah, he just did another one of those "OMG" moments that definitely make Siege an attention getter for the definite Marvel affectionado. I wasn't too big on the "Osborn vs Asgard" idea as a climax for the Dark Reign, but looking at how everything comes together here and now, everything feels just as it should be, and I'm enjoying the ride for all it's worth. Truth be told, the first issue was just a warm up, and now that we're building up to the main course with the second one, the appetizer delivers some sweet cheese people can salivate and talk about until the next month arrives. The best moments are the action driven parts, as well as the scene were Cap "pep talks" his posse into getting ready for battle - you know he's pissed and he's the man who's going to do something about it. However, The focal point of this issue is definitely the Ares vs Sentry throwdown, and just as the solicits and promo ads promised, an Avenger died a gruesome death in this issue. I won't spoil who goes, but it should be fairly obvious who it is. The reprecutions of this act will probably be felt later on, but Bendis has planted the seeds of it already, and who knows what chaos will be derived from it afterwards. Osborn's the guy you just gotta hate, and I can't wait to see his ass get kicked in a big way... which may just happen next issue!
While Bendis is known to incorporate plenty of dialogue into his books, this issue strikes a good balance between that and Olivier Coipel's fantastic art, which do great things in telling a completely mesmerizing tale visually. True, he's gotten more fans impressed with his work on Thor, but he also delivers a mean looking Sentry here, and the images do the talking of how badass the man with the "power of one million exploding suns". Certain characters and sequences are portrayed differently with some inconsistencies, but there's no doubt that the man has talent, and he draws action scenes and story driven moments on an epic scale level. Marvel did a great job picking him to pencil this event, and since it takes place on Asgard, I find no other suitable candidate for the job.
Overall, Siege #2 did a very good job than the previous issue. I personally enjoyed the hell out of it, and without collecting the tie-ins, it can stand on its own as a big and major event to read. I said it before and I'll say it again - it delivered the big wow fans drawn to the first issue were expecting, and this is the appetizer people will dig into before craving for the main course - which is the final battle to decide the fate of the entire Marvel Universe. I haven't seen this kind of excitement from a Bendis written event since Avengers: Disassembled, and judging on how good this series is building up to be, I'm not so surprised either. Disassembled was a four issue book, and now Siege will end things with four issues as well. It's a cycle that comes full circle, and with chaos comes the harmony that will eventually fold into the new and bright Heroic Age. Pick this book up if you want epic and awesome guaranteed.
Rating
-
10/10