The new PS3 SLIM... Looks like a portable DVD Driver. Goes for $299, 299 Euros, and 29980 Yen. Photo by SCE Inc.

Announced at the
GamesCom
in Europe a few hours ago,
Sony Playstation
head Kaz Hirai formally announced the long awaited
Playstation 3 Slim
to the gaming world. It will be priced at $299 dollars, 299 Euros, and 29980 Yen, and available for the worldwide gaming consumer market on the first week of September.
Additional details noted in Kotaku
are that the new "PS3 Slim" will be blessed with a 120gb internal Hard Disk drive, and it will be 33% smaller and 36% lighter than its big, big brother.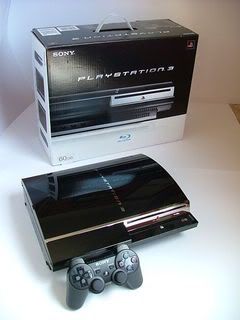 Ah Old Faithful PS3... still as bulky as ever
Well, here is a look againat the original, and as you noticed from the Slim's look in the pic above, gone is the Spider-Man 3 inspired logo, with the new model sporting the simple "PS3" logo on the right side.
More details were noted here
, and one particular change is the exclusion of the "Install OS" feature, so there will be no more customization for people looking to install other operating systems in the new PS3.
My thoughts? It's about TIME Sony released this, as well as slashing down prices on the older models at the same time. Since my friends and I own the old PS3 units already, it looks like now is the time for those without one to pick it up. Unfortunately, the slim won't have the Backwards Compatibility the older PS3 units have, so PS2 games are a nada for this new and sleek release.
New PSP Colors. Prreeeeettttyyyy....
Also coming out of Sony's pocket are new colors for their well established
PSP-3000
series. The new looks,
Blossom Pink
and
Turquoise Green
, are probably going to be marketed to those looking for some "happy PSP fun". Even with the
PSPGo
coming up, these new models are coming up this November, so anyone feeling a need for something Green... or Pink, you have options available to you.