It's a Marvel frenzy this month, and this week, a lot of surprises are in store for us True Believers! The House Of Ideas celebrates 70 years of proving fun and adventure to us readers, and it's a great time to jump in and explore the world where heroes like
Spider-Man
,
Iron Man
,
Thor
,
The X-men
, and
Captain America
reside in!
Marvel's 70th Anniversary! 'Nuff Said!
Originally known as
Timely Comics
back in the day,
Marvel Comics
officially celebrates their 70th Anniversary as a comic publishing company this month, with lots of their products bearing the symbolic "
70 years of Marvel Comics
" logo! Comic fans like myself feel privileged to be part of such a historic event. From 1939-2009... that's a long way to go for Marvel Comics! Visit
Marvel.com
for more details on their milestone celebration!
It's Marvel Vs Capcom 2... AGAIN!
For the gaming public, fighting game fans who own a
Playstation 3
may want to use their online credits tomorrow, because
Marvel Vs Capcom 2
goes live and arrives as a downloadable game in the Playstation Network! That's right, Capcom's bash and brawl tag team extravaganza is back for next generation consoles, rereleased in High Definition glory (well, almost). The 16:9 Widescreen ratio will expand the environments, but sprites will remain untouched, so old school fighters who miss the 4:3 ratio can opt to play it in its original form as well. The game is already being enjoyed by Xbox 360 owners, but PS3 owners can join in the fun soon, and unleash their own brand of mayhem online or offline!
Ryu and Ken doing a double-team on Juggernaut = AWESOMENESS.
Man this takes me way back to a time I can never forget. When MvC2 first came out in arcades in 2000, I was in utter shock and disbelief at how much Capcom chugged up to make up the game's roster. Gorgeous 3D Graphics merged with 2D sprites was quite experience for any fighting game adventurer out there, and whether or not you loved the Jazz inspired music, the game took you for one hell of a smackdown ride. Most importantly, there a walloping 56 characters to choose from, and everyone of them comes from a prominent Marvel title and Capcom video game franchise! This was one of the games that made me buy SEGA's last console, the Dreamcast, and it was a near perfect translation of the arcade port itself! It eventually arrived for the PS2, but that version paled in comparison to the Dreamcast. Fortunately, it's back and re-released for the next generation consoles after almost 10 years... damn, I feel old now.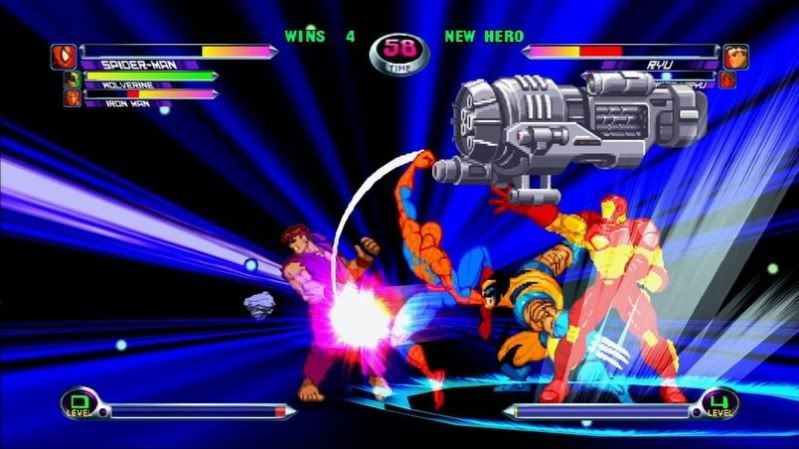 Imagine any team up, whether it be Mutants, Martial Artists, or Superheroes, and kick asses everyday. Now That's Cool.XD
The game plays like your standard
Capcom VS game
. Selecting 3 characters makes up your team and you do battle with the CPU or another human player, and after that's done, all that's left is to beat the crap out of each other in crazy, super powered mayhem! Controls are like
Street Fighter
, except the 6 button control scheme was tweaked a little to simplify the gameplay. 4 buttons are delegated to attacks, while the remaining two serve as "assist commands" to call out a partner for a timely assist.Of course, Combo abusing guys loved to bully a lot of unsuspecting players with their Cable-Storm-Sentinel team ups, but who cares?! It was Marvel Versuse Capcom 2, and we had fun with it! August 13 is the day fighters look forward to, so save the date and get your online points ready!
On a side note,
Marvel.com even showed off a PS3 retail edition of the game with a download voucher
... but it's only available at Gamestop in the states. Still, wherever or however you plan to purchase this game, Marvel and Capcom will "take you for a ride" once again... The Battle For Survival Begins Anew!