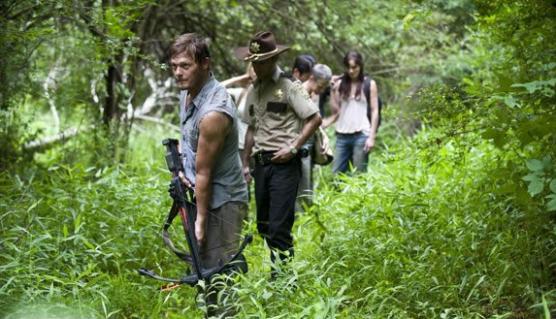 Finally making its way online after being shown at
AMC's
official
Walking Dead
panel at the
San Diego Comic Con
, here's the four minute plus trailer to the hotly anticipated second season of
Frank Darabont's
TV Series adaptation of
Robert Kirkman's
"
The Walking Dead
"! If you're a fan of the show, it picks up right after the finale of the last season, showing
Rick Grimes
and his fellow group of survivors back on the road and desperately trying to survive day-by-day from the living dead. SPOILERS are evidently present if you have no idea what this series is about, so I recommend not viewing this primer to Season 2 if you haven't watched or read anything Walking Dead related. Otherwise, go on and click on the player below to get a taste of what's going to happen when the new season premieres this fall!
The Walking Dead Season 2 Trailer
Just like what you see,
Rick, Shane, Lori, Glenn, Dale
, and the rest of the survivors return. Dissension, desperation, and survival are certainly the main themes going on here, and just when the stakes are getting high for the group, they meet up with a new group of survivors living on an isolated farm. Fans of the comic book series will definitely know who I'm referring to, so for more info, visit
the official AMC Walking Dead website
! Here's the official poster again below if you didn't see it the first time, as designed by
Punisher
and
Blade
comic book artist
Tim Bradstreet
!