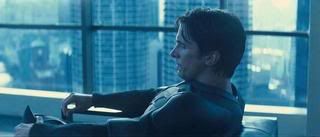 This is an unsurprising reaction from the man who defined the role these past few years.
In an interview conducted with
Total Film
, English performer and Batman actor
Christian Bal
e says that "
The Dark Knight Rises
" will be the last film in which he will play Bruce Wayne and don the cape and cowl, unless director Christopher Nolan says otherwise. This is reminiscent of the commitment and promise Tobey Maguire made about his role in the Sam Raimi
Spider-Man
films, in which the young actor promised he wouldn't don the webs again unless the director was involved. In that light, I guess we'll be seeing Bale suit up and fight crime for the last time as Batman unless something causes Nolan to extend his Batfilms forward outside of his promised "Trilogy". For more on the scoop plus the interview itself, visit
Slash Film
and
Total Film
!
The Dark Knight Rises will be released on July 20, 2012.