Now that Paul W.S. Anderson's latest Resident Evil flick, RE: Afterlife is making the rounds in theaters, news and interest on Capcom's survival horror franchise has spiked up, and yours truly couldn't be any happier with the results. In addition to the fact that there definitely will be a sequel to Afterlife, it looks like Sony and Capcom have decided to make a sequel to their 2008 CG Animated movie, Resident Evil: Degeneration!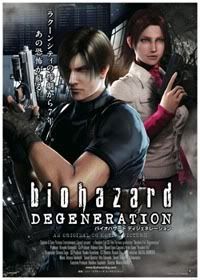 For those who don't know about that movie, it was set in the same universe as the games, and featured Resident Evil 2's main stars Leon S. Kennedy and Claire Redfield reuniting once more to fend off zombie attacks and bio hazard threats. While the film may have had mixed reviews, I thoroughly enjoyed it, and at least it retained the spirit and continuity of the games, which was big plus factor for me as an RE fan. Now, the people behind that flick are making the next CG installment, RE: Damnation.
According to the post featured in Kotaku
, the new movie will star Leon once again, and we can only guess who else will star and what the plot will be. Since RE: Degeneration took place between Resident Evil 4 and 5, maybe Damnation will take place after those events, with Leon taking on another mission backed by U.S Government... and running into Ada Wong once more. We can only dream for now... but I'm happy that a new flick is coming. Stay tuned for more updates as they come.