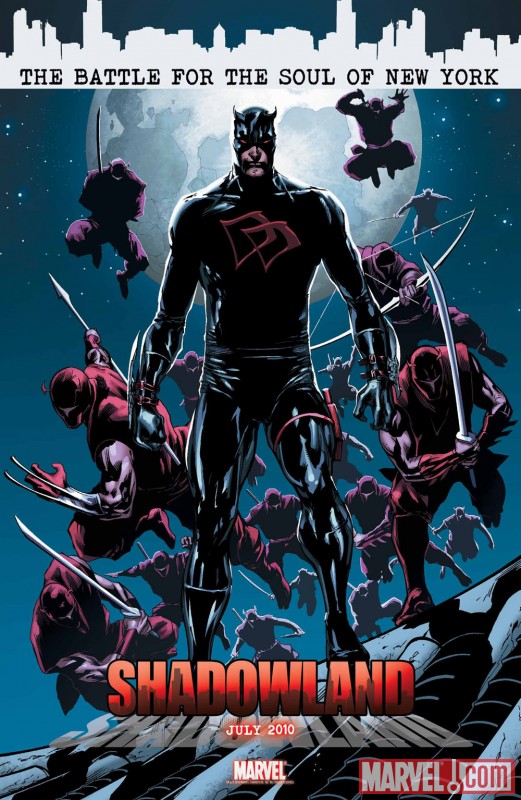 Everybody hear about
Shadowland
? The new
Marvel Comics
event sees
Daredevil
sporting a new costume and, as leader of the
Hand
, leading an army of ninjas to take out crime in the streets of New York... Permanently. This does not bode well for many of the heroes and villains in NYC, so they're caught in the middle of a war for the soul of the city, and things may not end in a happy note once everything is said and done. In fact, the first issue of Shadowland landed a major blow to the status quo and reputation of Matt Murdock, seeing a last page shocker that sent fans in a talking frenzy. What that is, I won't say or spoil, but it should be common knowledge at this point by now.
Right now, Marvel is slowly sending out new "teaser posters" that highlight the aftermath of Shadowland, pointing out to readers one very simple question and tagline: "
Who Will Be The New Man Without Fear
"? That alludes to something significant happening to Daredevil himself, as this is the title he embraced and carried for so long as a hero and vigilante in the streets of Hell's Kitchen. We won't know what Mr. Murdock's fate will be until the next few months, but a few heroes to "replace him" as of the posters featured by
Marvel
and
Newsarama
have popped up, namely those of
Nova
and
Gambit
.
Take your pick and guesses on which of these two revealed Marvel characters will be worthy of DD's title, but there's a good chance more candidates will show up soon. Stay tuned for more updates as time passes.