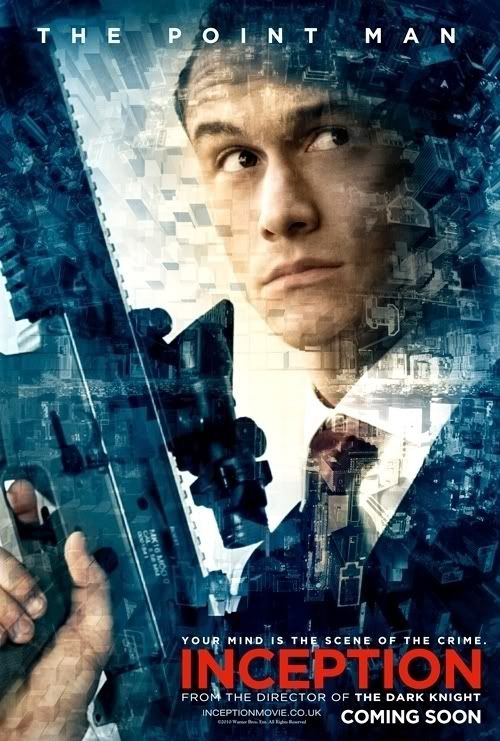 Going on its third week,
Inception
is still an amazing beast on cinemas. Still the talk of the town and full of the kind of energy and excitement one finds in Christopher Nolan films, you can also owe the film's success up to the amazing talent and cast who portray their parts in this movie so well. Next to Leonardo DiCaprio's amazing performance as Dom Cobb, the other guy who impressed me so much in this flick is none other than Joseph Gordon-Levitt, who plays Arthur, the partner and Point Man in Cobb's team. Cehck out this interview he has during David Letterman:
JGL Inception Interview on David Letterman
Having also starred in other recent blockbusters like
G.I. Joe: The Rise Of Cobra
and
(500) Days Of Summer
, JGL is one of those young acting guys who got their big start as kids with TV Commercials and shows. Later on, his career bloomed when he appeared as the lead in Disney's
Angels In The Outfield
, and acting as the character Tommy Solomon from the classic sitcom series
3rd Rock From The Sun
, a part that he is still known for today. He quit acting for a short while, but he came back and started acting in independent movies like
The Lookout
, which was another film I enjoyed. Today, Mr. Gordon-Levitt has cemented himself as one of Hollywood's biggest rising stars in the industry, and if you've seen 500 Days and Inception, you'll know why I'm a big fan of the actor. Recently though, it has come to my attention that JGL is, surprisingly, a
Street Fighter
fan! He revealed this little factoid during an interview in the Jimmy Fallon show, and how he tells the tale made me realize how much respect I have for this guy alone. Go and check out the segment below:
JGL Interview On Jimmy Fallon
Man, this guy is cool and awesome. Can't wait to see what's next JGL, and hopefully, you'll be The Riddler in the next Nolan Bat flick!