Have any of you heard of this wonderful game called
Super Mario Bros. Crossover
? You haven't? Well, you should, especially if you're a fan of all things Nintendo and classic side scroller platform action! I got word of this Flash based game a couple of months back when news caught on of this superb flash project that was readily available to play, for free, at Newgrounds.com. Since then, a lot of people have tried it out, and the feedback has been absolutely amazing, with several fans and converts desperately seeking an official release for this game alone! Yeah, it's truly a must try piece of fan software, and here's how it looks like:
Yeah, that's old school NES Box Art style... with a twist that's so awesome and epic at the same time! There's a reason why it's called Super Mario Bros. Crossover, and you see it right here! Joining the famous plumber in his adventures to save the Mushroom Kingdom and Princess Peach are none other that Link from The Legend Of Zelda, Samus from Metroid, Bill from Contra, Simon Belmont from Castlevania, and Megaman! Now, you'd be wondering how they'd play if the gameplay in Super Mario is substantially different when compared to their respective games. Fear not! Every ability you remember, from Simon's whip to Megaman's Megabuster, is still intact, and it's done and adjusted in a manner that fits well into this game's environment. For example, when these guys pick up a mushroom or flower, their abilities enhance according to what power-ups or upgrades they received from their own games. Bill gets a machine gun when he picks up a mushroom, while Samus upgrades into her Metroid armor when she power-up. Amazing game, I tell you, and now a new member has joined this ragtag cast of NES heroes - Ninja Gaiden's Ryu Hayabusa himself! I tried him out, and the sucker plays EXACTLY the same as he did in his own games in the NES! Truly an epic piece, and we have programmer Jay Pavlina of Exploding Rabbit to thank for this work of art!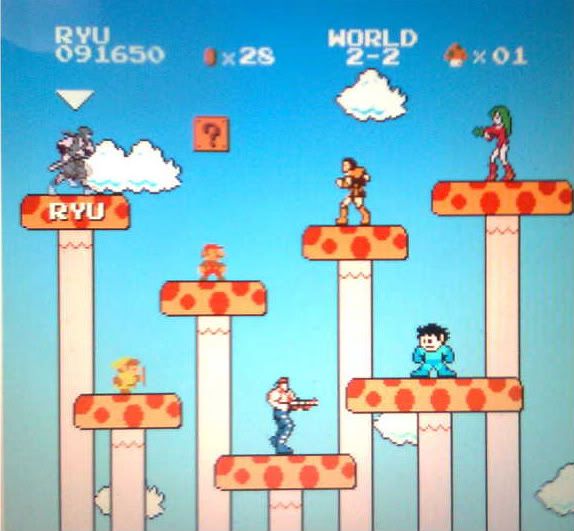 Super Mario Bros. Crossover can be played over at
the game's official site
! Go and visit, and relive classic old school NES action with a bang!