It's been a month since Iron Man 2 premiered in theaters, and the movie's still pretty fresh on my mind. Every nook and cranny of it keeps replaying on my head, especially those scenes with Tony Stark wearing all of his colorful armors to do his thing and fight the bad guys (or act very silly by getting drunk on his own birthday party). Yes, the fan in me has a soft spot for those armors, and thankfully enough, Marvel isn't one to let potential merchandise possibilities go to waste. With that, the inevitable happened and toys were produced to satiate the cravings of collectors and kids everywhere. I happen to collect an assortment of these figures myself, including a
MS War Machine
and a
6" Mark V
, and while I'd like to talk about each and everyone of them, I'll focus on the more recent ones I've picked up, particularly this baby down here: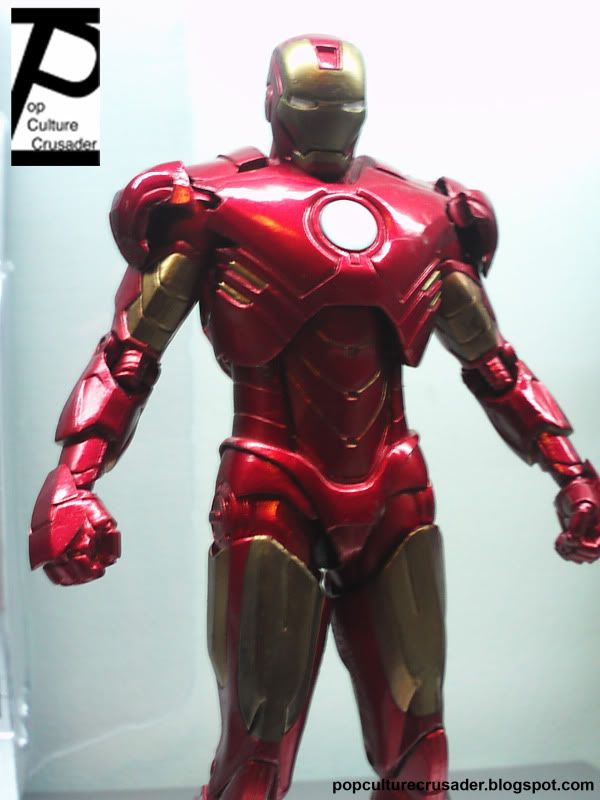 Say hello to the Marvel Select Iron Man Mark IV Armor. Yes, I finally have something to pair with the War Machine MS action figure, and it happens to be the suit that stands side by side with it on one of the iconic Iron Man 2 posters we've seen around promoting the movie - the one pictured below: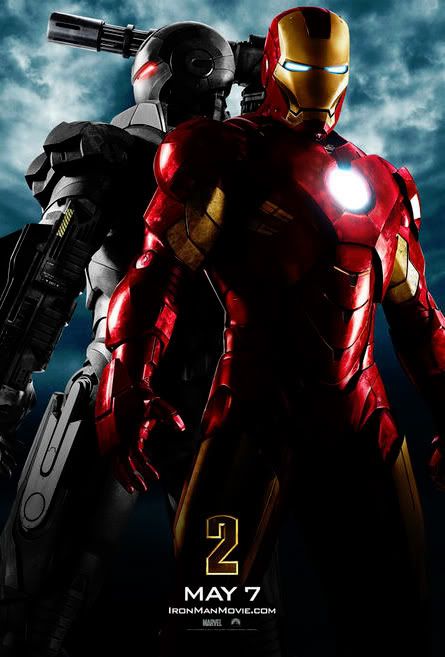 Here's a photo of the two MS figs following a similar back to back pose from that shot:
Those two look awesome and badass alright. Anyhoo, let's move on to the review.
Synopsis taken from back of packaging:
"An Updated, sleeker, more sophisticated version of Tony Stark's classic Mark III Iron Man armor, the Mark IV packs the latest in design punch. In the intervening six months since announcing that he was Iron Man to the world, Tony Stark has done a tasteful redesign to the suit that makes it even more aerodynamic and packs in powerful new weapons and promised to deliver a lot more fun. A sleek update that makes a classic even more classic."
As the synopsis stated, the Mark IV is a more refined and streamlined version of Tony Stark's Iron Man armor. Still using the iconic red and gold color scheme that makes Iron Man identifiable to the public, this baby symbolizes everything that makes Ol' Shellhead who he is - a jet setting avenger and an awesome hero. As far as I can remember, there weren't any flaws shown in Iron Man 2 to make the armor a problem for Tony to wear, besides his deteriorating Arc Reactor chest plate condition that became worse each time he donned the suit. Eventually discovering a new element to cure his ailment, Tony upgraded to the Mark VI, which looks almost exactly identical to the Mark IV, save for the grey areas inserted to several sections of the armor and a new Triangular chest plate, which reflects the look of the Extremis Armor in the comics. Despite the cosmetic changes to the exterior, the man inside the suit is very much the same, and no matter what iteration of his armor he wears, Tony Stark is and will always be Iron Man, 'nuff said.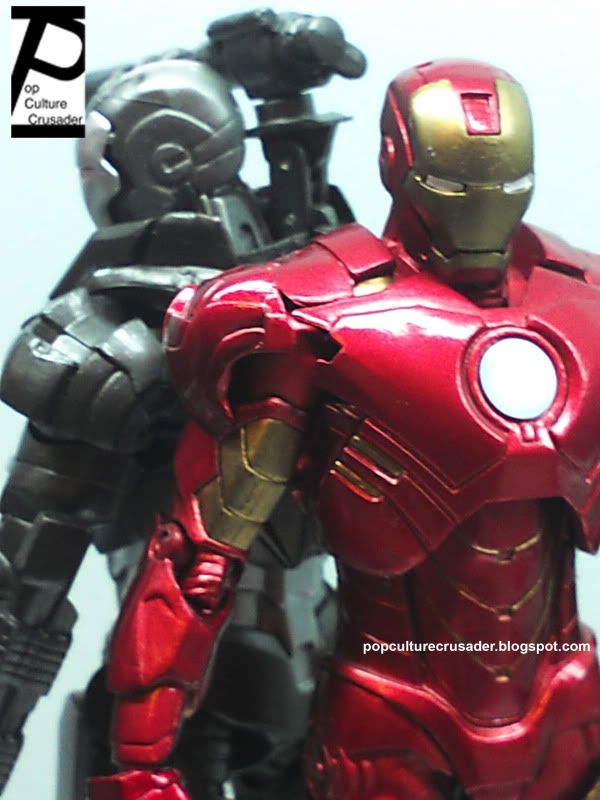 Originally released together, it took me a while to get my hands on the Mark IV. At first, I was counting on getting the Mark VI armor instead, but shipments for that figure were delayed as well. Fortunately last weekend, new stocks of Mr Stark's upgrade to his badly damaged Mark III arrived in the malls, and I was a gleeful little bugger when I finally picked the 8" inch figure up. Much like the Marvel Select War Machine, the Mark IV is primarily meant to be for display purposes only, but that's not to say that those who have it can't play around with it. The figure comes with some points of articulation, as well as an extra pair of removable hands that can easily be swapped or detached to the owner's liking. A silver base is also packed in, divided into two segments that can be inserted together to form a stand area with a single peg that allows the Mark IV to do his thing and pose around. Again, this compliments the War Machine figure, as it has it's own base to stand on as well.
For a Marvel Select action figure, the Mark IV is a surprisingly excellent and well made figure. It's a well sculpted plastic rendition of the armor, and the detail looks passable enough. However, since these babies are mass-produced, you may want to look and choose one carefully. Blemishes, smears, and paint errors tend to be the common sickness around collectibles like these, so it's not an issue to take lightly. My copy of the figure is acceptable, but there are slight chips and marks to the paint on the chest plate area that make it quite frustrating to look at sometimes but I can live with it.
The best thing about the Iron Man 2 Marvel Select line, and probably what got me to collect the figures in the first place, is the removable face plate accessory. Much like the War Machine figure having the likeness of Don Cheadle, the Mark IV has Robert Downey Jr's face sculpted onto it, completing the look of Tony Stark in his armor. Of course, with the two sets of holes you can insert the mask's pegs into, collectors have the option of having Tony "tilt" the faceplate up or down. In fact, you could even redo that "Demon In A Bottle" scene where he gets drunk in his own armor, with the Mark IV having two sets of hands to play around with. One set is a pair of closed fists, while the other are two open hands, that you can either use to simulate sustained flight or fire a repulsor blast. All with those accessories, but but if you notice that the face plate doesn't have any "lights" on the eye holes, rest assured, all of them are like that. I had to take the time to craft and customize my own stickers to add to the slits and complete the armored up look. It's a bit of a pain, but I had fun doing that at least.
Poseability wise, the Mark IV doesn't have anything in terms of dynamic posing. You can raise and twist the arms and legs around to make him, punch, kick, or fire a repulsor, but there's nothing of the sort that will make it pass as Marvel Legends like. Joints are typical, with points of articulation of the arms and knees you can use to bend the appendages. The waist can also move and twist around, and the shoulder pads actually has hinges on each side that make it swivel up in case Iron Man raises his arms. Finally, the head, hands, and feet move 360 degrees thanks to the ball joints. I had a hard time getting some segments to move thanks to paint freezing and misplaced joint issues, but a little tweaking and popping those pieces back into place fixed the issues in no time. There's not that much movement here and there for MS figures anyway, but with the amount of detail already placed into them, sometimes what's there is already enough.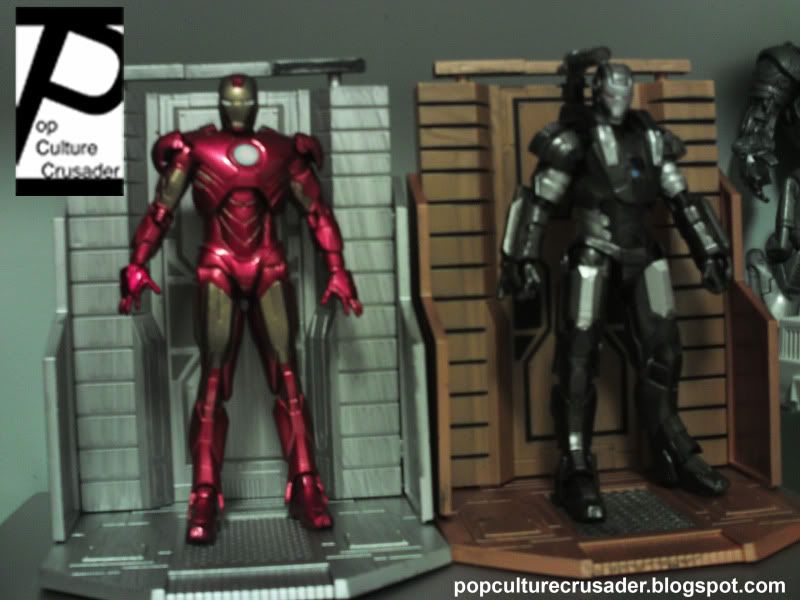 For its value alone, the Mark IV Iron Man figure is decent and well made. It's not the best nor is it the most poseable iteration of the character from the movie, but it gets the job done and is pretty good in its own right. This is Marvel Select after all, and you can only expect so much articulation compared to the 3.75" and 6" figures and toys. There's plenty of movement enough, and at least there are extra accessories and a stand in hand to make it versatile enough to play around with. Bottomline, get this if you're a serious collector of all things Iron Man, or are one to appreciate detail.
Rating
-
4/5