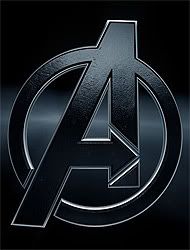 The
San Diego Comic Con
is the biggest comic book related event of the year... and it only just got bigger with so much
Avengers
related news!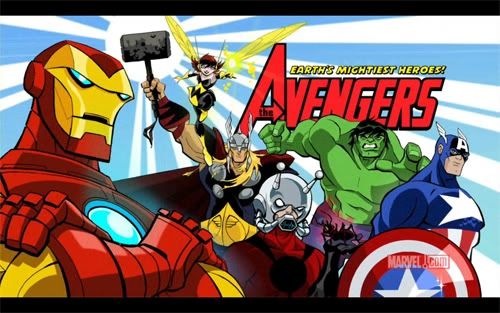 First off, Earth's Mightiest Heroes are going to get the new animated series treatment, in a new series that's fittingly called "
Avengers: Earth's Mightiest Heroes
"! Set for a Fall 2010 release, the animation looks impressive, and every character you've come to know in Avengers history make their debut! Check out the trailer courtesy of IGN!
Avengers: Earth's Mightiest Heroes Debut Trailer
Meanwhile, on this weekend's schedule of the SDCC, Marvel Studios held their panel discussion, and a lot of big announcements, footage, and sneak peeks were in on the show floor. First off were the big teases and clips for next year's big superhero films, namely
Thor
and
Captain America: The First Avenger!
In one footage described in SHH, Chris Evans was shown all decked out in Cap gear and throwing the shield via exclusive footage, and Chris Hemsworth was fighting some S.H.I.E.L.D Agents interrogating him in the "Thor" flick! Also related to the Avengers film, Jeremy Renner was cast as Hawkeye/ Clint Barton, while Mark Ruffalo is the new guy playing Bruce Banner! So much exciting news, and I only wish I could have viewed the footage there as well! Here's Samuel L. Jackson introducing the cast!
Avengers Cast SDCC Intro By Samuel L. Jackson
Here's the shot of the entire cast of "
The Avengers
", with the entire cast of the above mentioned movies joining the Iron Man team, namely Robert "Tony Stark/ Iron Man" Downey Jr., Samuel "Nick Fury" Jackson, and Scarlett "Black Widow" Johansson, along with their officially announced director alongside all of them, Joss Whedon!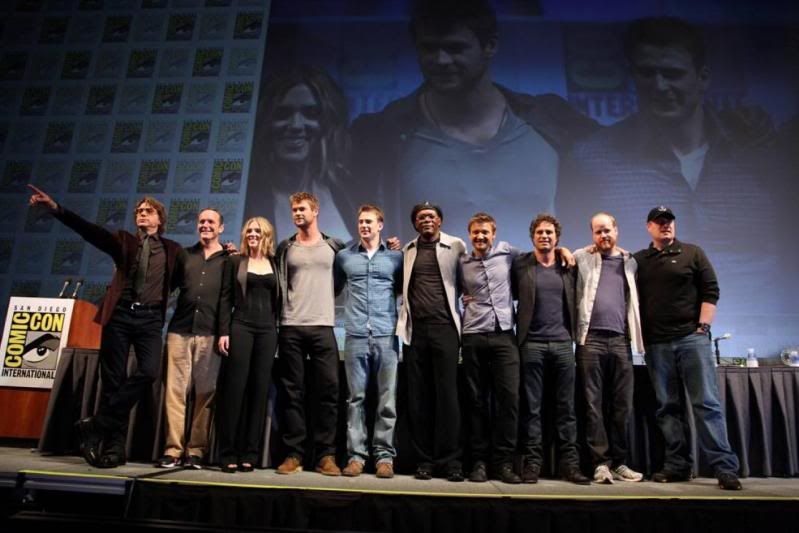 For more info on what transpired on the showfloor, visit Superherohype!
Avengers Assemble!