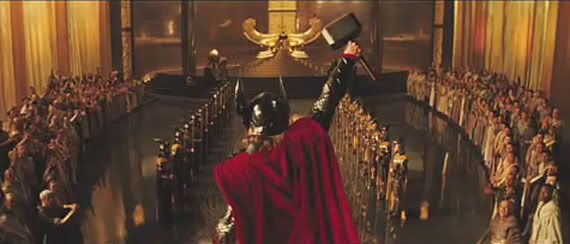 Last week's San Diego Comic Con had tons and tons of comic related stuff, especially news concerning upcoming film adaptations of superhero characters we all know and love from those books! DC was priming fans up with next year's Green Lantern flick, while Marvel had a lot to say about 2011's Thor and Captain America, as well as the following year's super team-up movie - The Avengers! That being said, exclusive footage was aired to those in attendance at the con, and from what I've heard, Thor and Cap were pretty amazing! It's exciting to imagine what these movies will be like as their release dates inch closer, but it's still about a year away before we see any trailers pop in.
However, the internet never sleeps with things like these, and by some miracle or coincidence, the 5 minute Thor trailer everyone has been talking about in the SDCC found it's way online! The news broke out in several websites
like Screen Rant
, and it was only a matter of time before it was put up and eventually taken off in You Tube. Screen Rant's post however has a link where you can view the leaked trailer, and it's exciting stuff that fleshes out the story of the God Of Thunder, whose carelessness and greed has him cast down to Earth by none other than his own father, Odin (played by Anthony Hopkins). Thor (Chris Hemsworth), now powerless, finds himself in a road of retribution, learning humility and struggling to get back his power and to Asgard so that he can defend it from the evil forces secretly at work to invade it before they put an end to his kingdom once and for all.
Excited already? You should be, and everything about this trailer spells SPOILER and tie ins to Iron Man, so better view at your own risk!
You can check out the trailer here
(if it's still up)!