In anticipation for this week's convention madness that is the San Diego Comic-Con,
Marvel.com
has posted up some amazing new artworks for the
Thor
and
Captain America: The First Avenger
movies in the form of mini one sheets! Yes, you see the God of Thunder and the Star Spangled Avenger, doing what they do best - Kick Ass!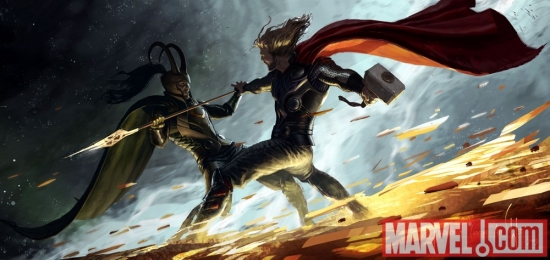 The first one sheet focuses on Thor, doing battle with none other than his evil step-brother, Loki, the God of Mischief! What already looks like an epic battle in the making sure gets my hopes up for the Kenneth Branagh directed film, and it's still due on May 6, 2011! One has to wonder though... where is Thor's winged helmet?!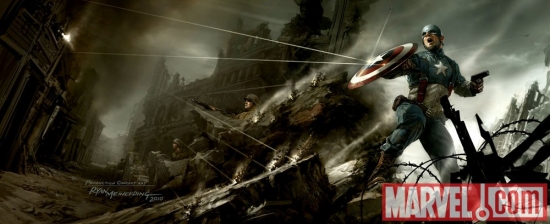 The final one sheet piece is a scene many Marvel fans are all familiar with: Captain America leading the US Army charge against the Nazis in World War II! This is probably my most anticipated superhero film for 2010, and hopefully director Joe Johnston graces us with the spirit of Cap's charisma and heroism in this flick, with Chris Evans taking up the mask and shield July 22 next year!
Both one sheets are looking good thus far! With the SDCC coming up, there's sure to be more stuff about these movies, so stay tuned for more updates as they come from the House of Ideas and Marvel.com!