It's been a while since we've seen or heard anything about the upcoming film adaptation of Marvel's Norse God superhero
Thor
, but here's a juicy that just popped up in several comic book movie and film websites like Slash Film, and it shows not one, but three main characters that are the literally the pillars and cornerstones of this movie! Check it out!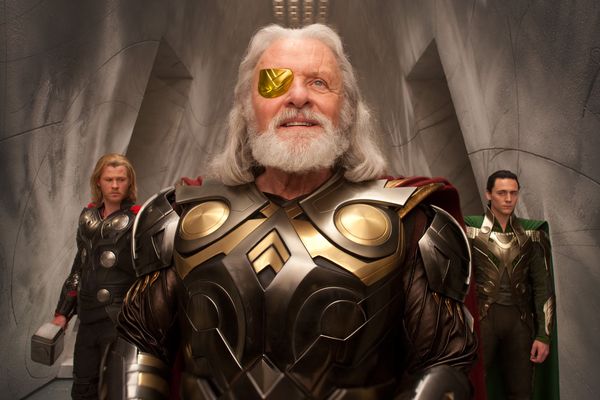 That's right, what you're seeing here is the first official image of Chris Hemsworth, Anthony Hopkins, and Tom Hiddleston as Thor, Odin, and Loki respectively! The All Father and his two sons are together in this scene that is presumably within the kingdom of Asgard, and Odin must be giving his kids some kind of inspiring lecture! How and what that is, we'll just have to wait when the film makes its debut on May 6 next year, but
the article
accompanying this pic from Slash Film also talks about Marvel confirming that the Thor movie and
The First Avenger: Captain America
film are getting the 3D Treatment. It will be done post-prod similar to movies like Clash Of The Titans, but how this will translate to the audience when both films do arrive in theaters remains to be seen. Personally, I don't really need the 3D... I just want some superhero awesomeness!
Again,
Thor
opens on May 6, 2011, to be followed by
The First Avenger: Captain America
on July 22, 2011!